Musaic Vocal Ensemble has invited musical friends to perform in Music From Home. Be soothed and inspired by these talented musicians.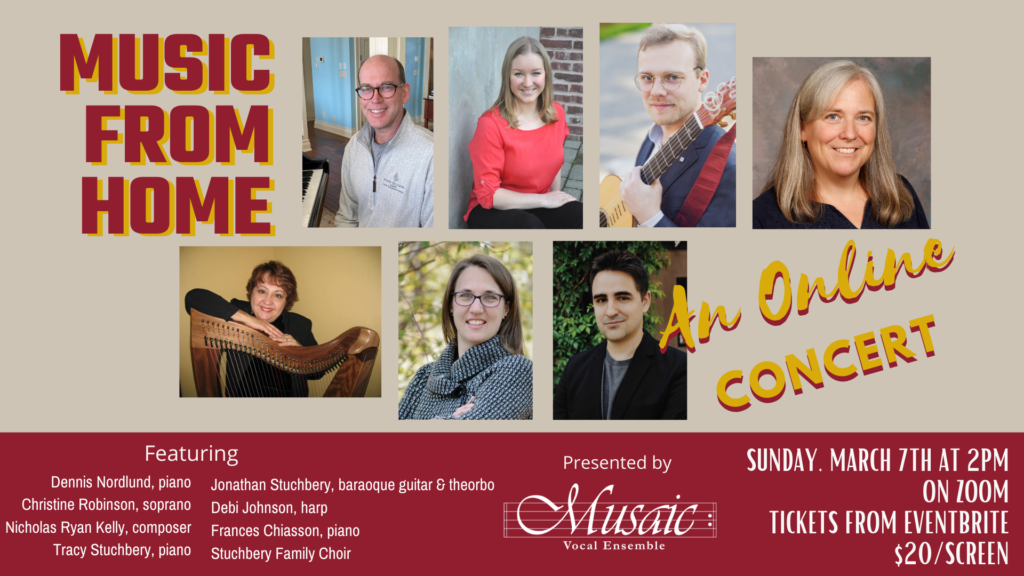 About this Event
Musaic Vocal Ensemble has been working hard to stay connected to its membership during these pandemic times. We also wanted to reconnect with musicians that we've enjoyed performing with over the years, to support them in their quest to remain active as musicians, and to share some glorious music with our audiences. We hope you'll enjoy this Zoom performance of some of our musical friends, performing from their homes to yours.
Featuring:
Dennis Nordlund, Piano
Jonathan Stuchbery, Baroque Guitar & Theorbo
Debi Johnson, Harp
Tracy Stuchbery, Piano
Christine Robinson, Soprano
Nicholas Ryan Kelly, Composer
Frances Chiasson, Piano
The Stuchbery Family Choir
Performer Bios
Dennis Nordlund began his musical career in Vanderhoof, B.C. and continued studies in Penticton and Vancouver. He obtained the A.R.C.T. through the University of Toronto as well as his B. Sc. at the University of British Columbia in Vancouver. Dennis performs throughout the Okanagan as a soloist, an accompanist for vocalists, choirs, instrumentalists, and theatrical productions, and as part of a jazz trio, a chamber ensemble group, and a worship team at the Penticton Vineyard Community Church. At his Penticton studio, Dennis teaches piano, composition, accompanying, and music theory. He enjoys playing a wide range of styles and is always looking for opportunities to create beautiful music.
Jonathan Stuchbery is an artist engaged in inspiring and educating audiences as diverse as his musical interests. A specialist in period instruments of the lute and guitar family, and with a background in classical and electric guitar, his performances offer "exciting and technically brilliant" (Marvin Dickau) displays of the wealth of the musical language.
Versatile as a soloist, chamber musician and continuo player, Jonathan frequently distinguishes himself across Canada, the United States, and Europe. He is active in the rich early music scene throughout Canada, and can be seen performing music on period instruments, solo and with ensembles such as Aureas Voces (Halifax), Pacific Baroque Orchestra (Vancouver), Les Méandres (Montréal), and Theatre of Early Music, and in festivals and series including Music and Beyond, Festival Montréal Baroque, Musique Royale, and Hammer Baroque. In January 2020 he completed a solo tour of British Columbia for Living Room Live.

He is a founding member of the Cygnus trio (flute, violin, guitar), which places an emphasis on performing not only in traditional venues, but in reaching out to the community through events such as visits to women's shelters, house concerts, and children's programs. The trio toured their program 'Lost Islands' through Ontario in 2018, featuring new music and poetry by Canadian artists, in collaboration with actors Paul Hopkins, and Blair Williams, and composer Arie Verheul van de Ven. The trio's debut album 'Amalgam' was released in December 2018, and features new works and arrangements written specifically for them.

He has extensive experience in contemporary classical music, having premiered and performed large-scale works on classical, and electric guitar in series such as Live@CIRMMT and Montréal/Nouvel Musique. He is currently working on a program of new music for the theorbo, which began to take shape in September 2020 with the premiere of Arie Verheul van de Ven's piece "Mosquito Touch", in collaboration with visual artist Alex McLeod who created a video for its online release.

His classical guitar studies began in Penticton, British Columbia with Selwyn Redivo and he received a bachelor of music with a double major in guitar and lute performance at McGill's Schulich School of Music, and was recognized for outstanding achievement in Lute. He studied with Jérôme Ducharme and Sylvain Bergeron. In 2020 Jonathan received a Master's in the Performance of Early Music at the Escola Superior de Musica de Catalunya in Barcelona, studying in the studio of Xavier Diaz-Latorre, for which his master's research on guitar stringing methods in the baroque received the highest marks and has been published in RECERCAT, a
repository of research conducted in Catalunya.
Debi Johnson is a life-long singer/musician playing piano, organ, accordion and Celtic harp. As a self taught harpist she has played sold out solo concerts, performed extensively with the harp trio AnamCara and has played everywhere from a store-front women's shelter in the lower Eastside of Vancouver to gardens, beaches, private homes and concert theatres.
In 2009 Debi trained in therapeutic music and achieved a certificate in San Diego with the International Harp Therapy Program and is a Certified Therapeutic Harp Practitioner. For the last 10 years she has been employed as a therapeutic musician in senior's care homes where she uses music to reach vulnerable residents experiencing memory loss, pain and in some cases end of life.
Debi is married to jazz musician Larry Crawford and the two of them frequently perform together in the South Okanagan using the harp with clarinet and flute.
Christine Robinson is a classically trained soprano living in Penticton, BC. She completed her bachelor's degree in opera performance at UBC where she was an active member of both the University Singers and the UBC Opera Ensemble. Under the tutelage of Marisa Gaetanne and direction of Nancy Hermiston, she performed the roles of Betty Parris in Robert Ward's The Crucible, and the young nun Sister Alice in Poulenc's Dialogues des Carmélites. She also appeared in the choruses of Rusalka (Dvořák), Cendrillon (Massenet), Trial by Jury (Gilbert and Sullivan), and Cosi fan tutte (Mozart). She performed the role of First Wood Sprite in Rusalka in concert with Burnaby Lyric Opera, and most recently ventured into musical theatre to perform the role of Lily in The Secret Garden with Penticton's own Soundstage Productions. She has performed as a soloist and chorus member for numerous orchestras and music ensembles across BC, and is an active chorister and chamber musician in Penticton and throughout the Okanagan.
Nicholas Ryan Kelly is a composer who draws inspiration from speculative fiction, science, and nature. He has been commended by the Vancouver Sun for his "sophisticated work of such immediate, glittery appeal" and called "a rising star in the constellation of Canadian composers" by Oregon Arts Watch.
Originally drawn to music's storytelling power by symphonic film scores, he now brings a sense of cinematic drama to music for choirs, orchestras, and wind bands throughout North America.
His choral compositions have been performed and released on CD by some of Canada's top choirs, including Chor Leoni, the Da Capo Chamber Choir, and Pro Coro Canada. Since 2015, he has received a dozen national and international awards for choral and wind band writing, including the Edwin Fissinger Choral Composition Prize. His instrumental music has been featured by the Vancouver Symphony Orchestra, the Victoria Symphony, and the West Point band of the U.S. Army, among many others.
Originally from rural New York State, Nick is now a Canadian citizen and lives in BC's beautiful Okanagan Valley, where he composes, conducts, and teaches private lessons. He completed degrees in music composition at Ithaca College (B.M.) and the University of British Columbia (M.Mus.)
His choral scores are published with Pavane Publishing, Cypress Choral Music, Renforth Music, and Alliance Music. He also self-publishes through Lone Moose Music, distributed by MusicSpoke.
Tracy Stuchbery is a versatile and seasoned musician, whose career encompasses both solo and collaborative work as pianist, singer, choral director, educator, church musician and arts administrator.
A sensitive and dynamic pianist, Tracy has worked with chamber ensembles, instrumentalists, singers, choirs, church groups and musical theatre productions. While living in BC, she was in demand as an accompanist for string, woodwinds and vocal students competing at both local and provincial competitions.
Tracy was the artistic director and conductor of Musaic Vocal Ensemble, a 50 voice SATB choir based in Summerland, BC from 2011 – 2017. She has also worked with the Vancouver Children's Choir, founded and directed the St. John's Children's Chorus in Squamish, BC and the Penticton Youth Choir in Penticton, BC.
A dedicated and inspiring teacher, Tracy has been teaching piano for over 30 years. She maintained a busy piano teaching studio at the Penticton Academy of Music where she also served as artistic director of the Academy until relocating to Toronto in the Fall of 2017. Based in NYC and under the guidance of founding director, Madeline Bruser, Tracy is a faculty member of the Art of Practicing and Performing Institute, a not-for profit organization on the leading edge of teaching mindfulness techniques to musicians.
Tracy served as interim organist at St. Alban's Anglican Church in Richmond, BC and has served as music director/organist for St. John the Divine Anglican Church in Squamish, BC, and at St. Saviour's Anglican Church in Penticton, BC.
Tracy is delighted to be serving as the music director/organist and pianist for St. Philip's Anglican Church, Etobicoke.
Frances Chiasson grew up in northern British Columbia, immersed in the arts. She attended the University of British Columbia, earning Bachelor of Music and Bachelor of Education degrees and started teaching music in Vancouver schools in the mid-1990's.
Since that time, Frances has taught choral and instrumental music in primary and secondary schools, choral methods at the University Calgary, private voice and piano students, and frequently leads singing workshops in schools. She has conducted numerous choirs in school, community, and church settings in Canada and the UK, including the award winning Amabile Girls' Choir (UK). She has worked as a choral clinician and adjudicator in music festivals and as a piano accompanist for choirs, singers and instrumentalists.
In 2014 Frances moved to the Okanagan Valley, where she founded the Okanagan Children's Choir, is the Associate Conductor of OCC Youth, is a church musician at First United Church, Kelowna, and is the Musical Director of Musaic Vocal Ensemble. She is a founding member of the BC Choral Mentorship Project Okanagan Chapter and in January 2019, founded the new UBCO Chorus at UBC Okanagan.